This week's picks for what to look at. This is another bumper weekend, so make sure to check the other listings to see what I skipped here to make room for friends and people who I owe money to.
she went back to where she began & she sat with her back to me @ Attic at 1753
Video from Georgia Wall and performances by Vicki Fowler, Millie Kapp, Isabella Ng, Libby O'Bryan, Ali Scott and Hannah Verrill. Going on this Friday, May 14th from 7:30-10PM @ Attic at 1753, 1753 W Cullerton St.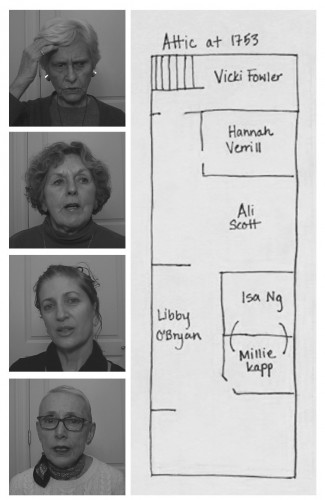 Robert MacNeill @ iceberg.
Frozen Music is a pretty fucking metal way to describe your art, but the pictures I've seen suggest sculptor Robert MacNeill isn't stretching too far. His new show opens Saturday, May 15th from 6-9PM @ iceberg., 7714 N Sheridan.
Philip von Zweck @ Medicine Cabinet
Philip von Zweck moved his medicine cabinet, the former VONZWECK medicine cabinet, to Medicine Cabinet, replacing their medicine cabinet with his own. Opens Saturday, May 15th from 7-11PM @ Medicine Cabinet, 3216 S Morgan St, 4R.
Live Forever @ Concertina Gallery
Good things end and Concertina Gallery was a pretty good thing. For its final exhibition, the gallery is hosting Live Forever, a show about immortality with work by Dave Dyment, Megan Hildebrandt, Jason Lazarus, Tibi Tibi Neuspiel, Ruben Nusz, and Marty Burns. Opens Saturday, May 15th from 6-10PM @ Concertina Gallery, 2351 N Milwaukee Ave, 2nd floor.
Steve Reinke @ Roots & Culture
Skiemall @ artXposium 2010
Here's some helpful self-promotion: Anni Holm put together a show of work connecting to or inspired by those Skymall magazines you find tucked into seats on flights as part of the mini-artfair she helps run in the suburb of West Chicago. I'm in it, and so is Claus Ankersen, Lise Haller Baggesen, Tom Burtonwood, Mario Contreras, Gemma Correll, Diana Gabriel, Aron Gent, Richard Holland, Holly Holmes, Matt Logan, Mark Osterman, Sara Phalen, Grant Ray, Alison Rhoades, Andrew Rigsby, Victor Yanez-Lazcano, and Matt Austin. Check it out this weekend, Saturday, May 15th from 9AM to 9PM and Sunday, May 16th from 10AM to 2PM @ 203 Turner Ct, in West Chicago.
See you out.