Has it been a year already? It has, and the proof is going down all weekend at the Merchandise mart with Art Chicago and NEXT and that other antique fair thing and a host of other integrated events at other locations. Here are my picks for what to see:
Art Chicago / NEXT @ Merchandise Mart
Included for quick reference. Preview night is tonight, Thursday April 29th, from 6-9 PM (its private… well, sort of), with the regular hours Friday and Saturday 11AM – 7PM, and on Sunday 11AM – 6PM, and Monday, 11AM – 4PM. Tickets are $20 or free for people who thought to read this.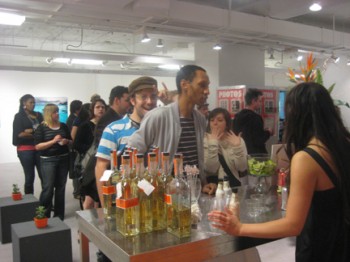 Jessica Labatte @ GOLDEN
Excellent still life photography from Chicago artist Jessica Labatte. Opens this Friday, April 30th from 7-10PM @ GOLDEN, 816 W Newport Ave.
SAIC Graduate Thesis Exhibition @ Sullivan Galleries
A giant MFA show which you will attend to support your friend – however, in a cruel rehearsal of the post-grad experience, you will be unable to find her among the grand assembly of other artists on display. Your text messages will go unnoticed, alerts and vibrations hid in the loud crowd contact. You will give your congratulatory bouquet to a petite ceramics graduate on your way out. Opens Friday, April 30th from 8-10PM @ Sullivan Galleries, 33 S State St, Floor 7.
Tony Tasset @ Kavi Gupta Gallery
This month Kavi Gupta is showing off a slice of Tony Tasset's work from the ten years between 1986 and 1996. Guaranteed to impress, the exhibition opens Saturday, May 1st from 6-9PM @ Kavi Gupta Gallery, 835 W Washington Blvd.
Terminus Ante Quem @ Shane Campbell
Nice and dark group show featuring Shane Huffman, Barbara Kasten, Anthony Pearson and Erin Shirreff. If I had to guess, I'd say it'll have something to do with the unknowns (historical, functional, etc) attached to objects. Opens Saturday, May 1st from 6-8PM @ Shane Campbell Gallery, 1431 W Chicago Ave.
Dana DeGiulio @ Julius Cæsar
Dana DeGiulio makes paintings full of creepy black and white chaos and spidery line-work, but expect something maybe more at her new show with Julius Cæsar. Definitely worth checking out, which you can do this Sunday, May 2nd from 4-7PM @ Julius Cæsar, 3144 W Carroll, Unit 2G.
I'll see you there.